JOHNNY ROADHOUSE : The man, musician and melodist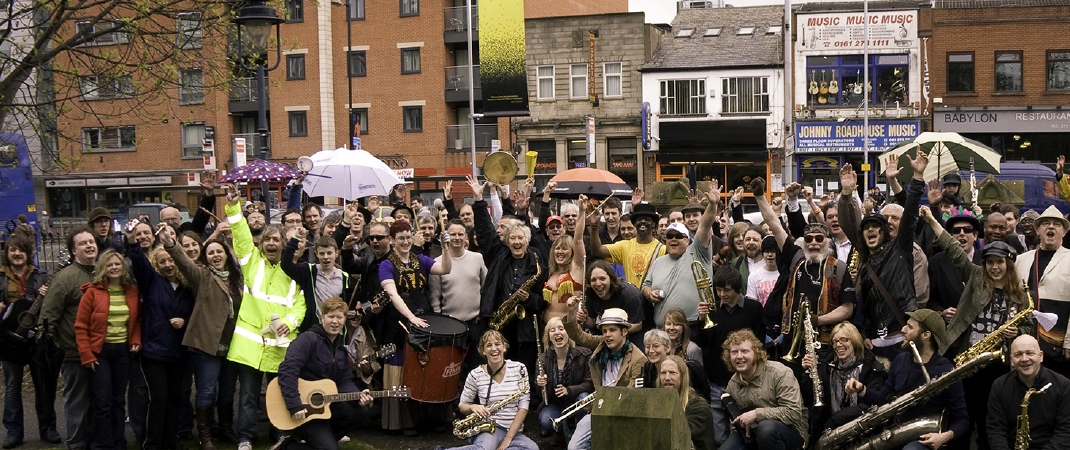 Memorial Parade for Johhny Roadhouse - Photo By Phil Portus
An icon in the musical history of one of the UK's most music-obsessed cities, JOHNNY ROADHOUSE MUSIC has stood tall on the streets of Central Manchester since 1955.
Ever since legendary saxophonist Johnny Roadhouse Sr. decided to create a store for musicians that was run by musicians we have been providing superlative service and pin-sharp pricing to amateurs and professionals alike.
Our location and longevity has enabled us to serve and provide for a host of legends in the Rock, Folk, Jazz and even the Classical spheres.
On our ground floor alone we have a guitar that was played by Sir Paul McCartney for a BBC Session and several instruments signed by members of OASIS, THE INSPIRAL CARPETS and THE STONE ROSES.
These items may not be for sale but we have a treasure trove of new and used gear that will intrigue all ardent tunesmiths.
Indeed, not only have we been helping Manchester musicians of all ages and experience levels purchase their gear (we also served members of the SMITHS, JOY DIVISION, BUZZCOCKS to name but a few) we also help musicians to sell equipment by offering great deals on second hand instrument purchase and also part-exchange.
Why lug around or advertise your redundant gear elsewhere when we can provide the full service?
If we can't see you soon in our own hallowed halls (please come if you can!), feel free to browse our ever-so-new website for the latest instruments, accessories and accoutrements to enhance your auditory experiences.
ADDENDUM:
We are known as such an integral part of Manchester Culture that the fabled miniaturist "Manchester Builds" is currently putting the finishing touches to his tiny replica of our building - check out his Facebook and Insta feeds for pictures. We hope he replicates that kalimba in the left hand window properly...
JOHNNY ROADHOUSE : The man, musician and melodist
One day, early in the 1960's, Johnny was preparing for one of his band's regular performances on the then-famous radio show 'Here We Go' by having an informal talk with his colleagues on the balcony of the Playhouse Theatre.
A friend came up to Johnny and informed him that a member of the guest-band on that day's show would like to say hello.
A young lad with dark hair and an infectious grin came up and shook hands with Johnny… "I can't wait to tell the rest of the lads I've met Johnny Roadhouse!" he said.
"By the way, we're called the Beatles. I'm Paul McCartney."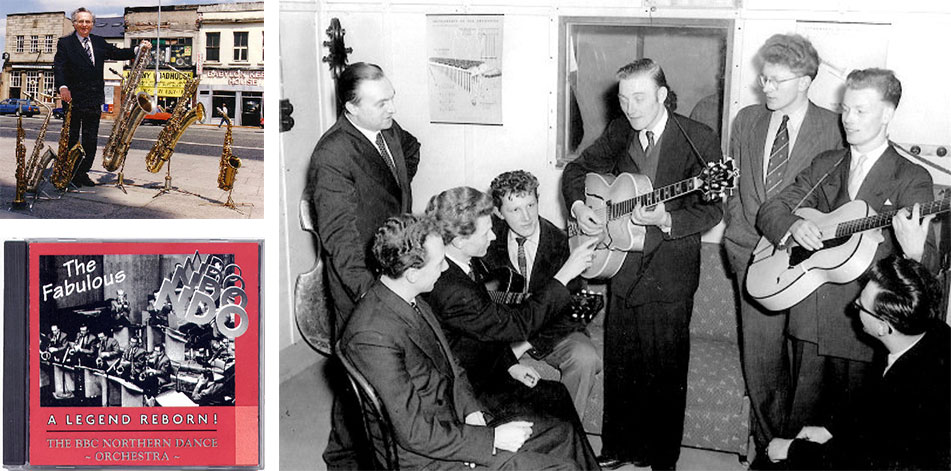 John Roadhouse (13 January 1921 – 11 April 2009) was a British musician who specialised in saxophone.
Roadhouse was born in Sheffield, but lived in Moss Side, Manchester from an early age. He taught himself how to play the saxophone. Originally an aircraft fitter with Metropolitan-Vickers at Trafford Park, he began to play with local dance groups during his spare evenings.
He got his first big break when he became a member of the Teddy Foster orchestra in 1948. He later went on to join the BBC Northern Variety Orchestra in 1953.
Johnny Roadhouse Music, Manchester, UK
He opened up his music store, Johnny Roadhouse Music in 1955. His store became a cornerstone for Manchester music and was used by several famous musicians and groups including Oasis and The Smiths. In his retirement he passed the running of the store over to his son, John Roadhouse. He was presented with a Lifetime Achievement award by the Lord Mayor of Manchester in 2005.
MANCHESTER BUILDS
Scale model photos from the MANCHESTER BUILDS project completed May 2021